Az új Doctor Who sorozatról részenként
1.3 The Unquiet Dead (Testrablók)
Mindenből kapunk egy keveset, ami úgy általában jellemzi az egész sorozatot.
A tér-időben száguldozó dobozról kiderül, hogy nem mindig oda és akkora érkezik, ahova és amikorra várják tőle, ráadásul belülről még annál is sokkal nagyobb, mint amennyit eddig láttunk belőle.
Máskor, más időkben is keresünk még idegeneket halhatatlan remekművek alkotóival, sőt nem egy alkotás részleteibe is belefeledkezhetünk.
Visszatérő kérdésként merül fel, hogy feláldozható-e egyetlen ember, ha azzal egész fajokat, civilizációkat menthetünk meg, és ugyanez megfordítva is működik, megmenthetünk-e néhányakat, ha mindenkit nem lehet.
Mindeközben tanulhatunk az időutazás elméletéről, idővonalakról, paradoxonokról, fix pontokról, és beláthatatlan következményekről. Ebben a részben például Rose kénytelen szembenézni vele, hogy meg tud halni abban az időben amelyikben még meg sem született, hiszen a saját idővonala folytonos marad, és ezen belül bármilyen formát képes felvenni. Az is kiderül, hogy a történelem megváltoztatható bizonyos mértékben, mivel az idő folyamatos áramlásban van, nem minden állandó benne.
Fontos mondandó lehet még, hogy a Doctor sem tudhat és érthet mindent, ami összefüggésben lehet azzal, hogy önmagában az elme – legyen bármilyen bölcs – még egyáltalán nem elég a világmindenség megfejtéséhez.
Messziről, de már érkezik a részeken átívelő nagy, gonosz farkas (Bad Wolf), ami az egész évadot végig követi, és nem biztos, hogy ott meg is áll.
Kicsoda a Doctor?
Charles Dickens is felteszi a mindenkit foglalkoztató kérdést, amire a Doctor válasza ennyi: "Csak egy barát. Átutazóban." Ebben a részben már észrevehető, hogy a Doctor személyesen is felelősnek érzi magát az időháború következményeiért, ezért is történhetett meg, hogy minden előzetes óvintézkedést mellőzve, szabad utat engedett a világunkba egy ismeretlen létformának.
Kicsoda Charles Dickens?
A Karácsonyi ének (A Christmas Carol) ami általában eszünkbe jut róla, és abban tényleg benne van minden – múlt, jelen, jövő, szellemek – amivel a karakter jól illeszkedik ehhez a részhez. 1868 és 1869 között Dickens valóban ezzel a könyvével haknizott, a szerződése 100 előadásra szólt, ebből majdnem mindet sikerült teljesítenie. Karakterének szkeptikus viselkedése is megfelelhet a valóságnak, mivel A Karácsonyi ének volt az első olyan színpadi előadás 1862-ben, ahol illúziót alkalmazva, üvegtábláról visszaverődő fényekkel jelenítettek meg szellemalakokat, tehát Dickens tisztában volt a látvány technikai feltételeivel. Van még egy kevésbé ismert műve ami kapcsolódik a szellemvilághoz, A kísértet-látó ember (The Haunted Man and the Ghost's Bargain). Az epizód végén elmondja, hogy megírja a teljes sztorit The Mystery Of Edwin Drood And The Blue Elementals (A rejtélyes Edwin Drood és a kék létformák) címmel, és valóban létezik ilyen befejezetlen műve, a kék lényeket leszámítva persze. De ki tudja? Talán csak véletlenül maradt le. 🙂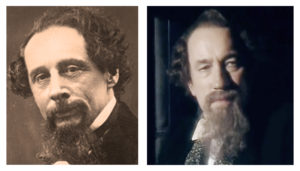 Az idegenek
Gelth
Ez a faj nagyon gáz. (Bocs.) Eredeti formájukban rendelkeztek fizikai testtel, de az Időháború okozta pusztítások miatt kénytelenek voltak gázneművé redukálódni a fennmaradásuk érdekében. Azóta keresik a nekik megfelelő létformát.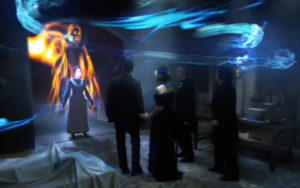 Oszd meg másokkal is!