Az új sorozatról részenként
Az 50. évfordulós különkiadás, a The Day of the Doctor (A Doctor napja) előzménytörténetei.
Az időháború története köti össze a klasszikus szériát az újrainduló sorozattal. Az 1963-ban indult kalandozás a 7. Doctorral ért véget, majd néhány év szünet után egy tévéfilmben tért vissza a 8. Doctor, és csak sokkal később indult az új sorozat a 9. Doctorral, aki már a második részben beszél a Nagy Időháborúról amiben elpusztult a szülőbolygója.
A háború az Időurak és a Dalekok között zajlott, és egyik kiváltó oka maga a Doctor és a Dalekok közti konfliktus lehetett. Az Időurak emellett mindig is tartottak attól, hogy egy ilyen kegyetlen faj olyan fejlettségi szintet ér el, amivel képesek lehetnek az egész univerzumot elpusztítani, éppen ezért megpróbálták visszaküldeni a 4. Doctort az időben, hogy módosítsa a Dalekok fejlődését, (Könyv: In Genesis of the Daleks) ez a küldetés azonban sikertelen volt, ahogy a későbbi békeszerződésre tett kísérletük is kudarcba fulladt, de a háború kirobbanásának végső oka az Apokalipszis Eleme (Big Finish Productions: The Apocalypse Element), egy olyan Dalek fegyver, ami az egész világot kiírthatta volna, és ezen a ponton az Időuraknak közbe kellett lépnie.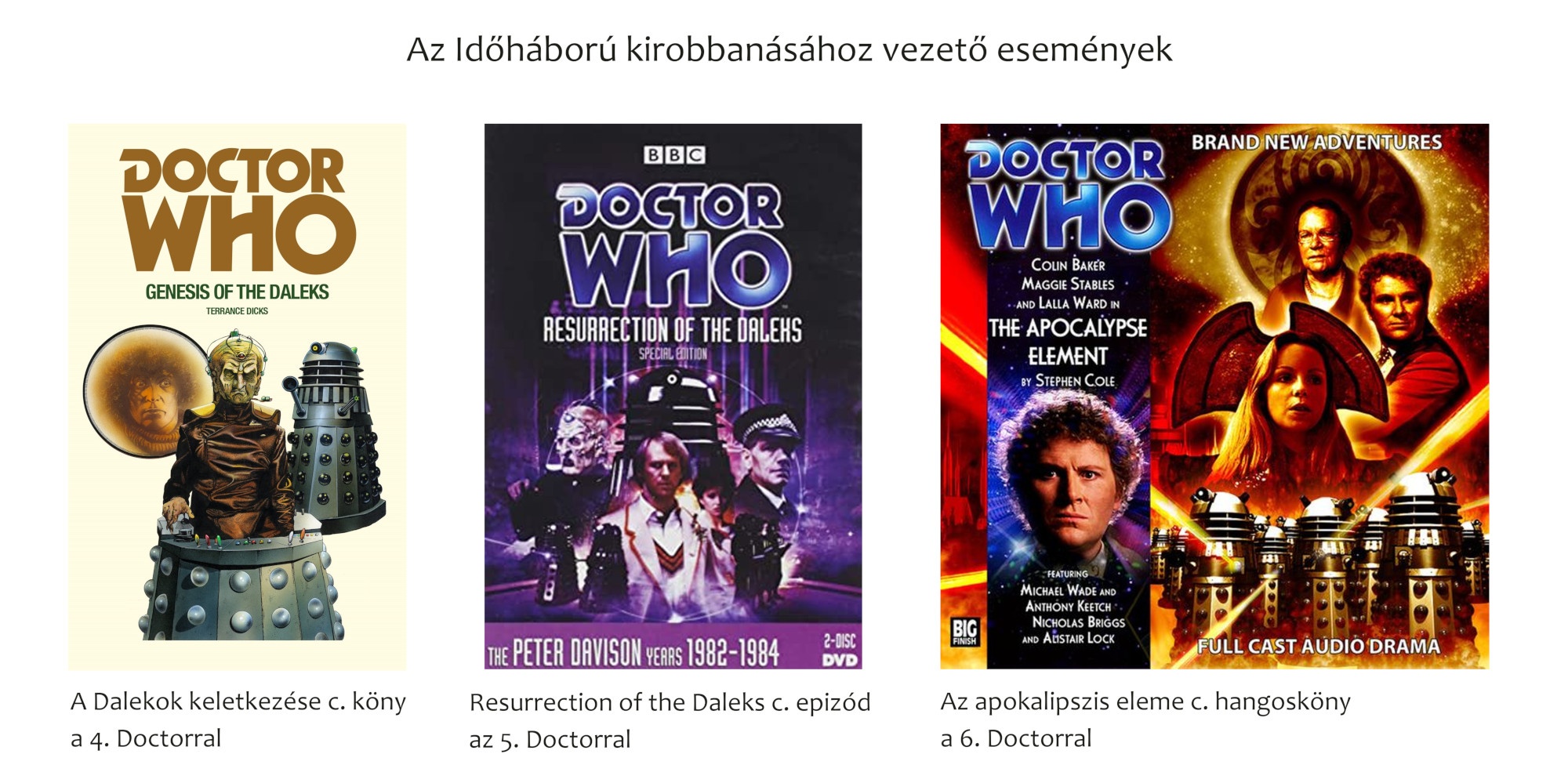 A The Doctor of Night miniepizódból azt is megtudhatjuk, hogy a 8. Doctor nem volt hajlandó részt venni az Időháborúban, helyette a világűrt járva kereste a bajbajutottakat. Az egyik ilyen alkalommal a nő, akinek megmentésére sietett, visszautasította a Doctor segítségét miután megtudta, hogy Időúr, mert a háború már olyan régóta zajlott, hogy meg sem tudták különböztetni a szemben álló feleket, Dalek vagy Időúr, ugyan azt a pusztítást és veszedelmet jelentette számukra.
Cass űrhajója zuhan, de nem hajlandó elmenekülni a TARDIS-szal, inkább magára zárja az ajtót, így Cass és a Doctor ottmarad az űrhajó fedélzetén, becsapódnak a Karn bolygó felszínére, ahol Cass meghal, és a Doctor is haldoklik, vagyis regenerálódni fog. A Karn bolygón él a Karn Testvériség, akikkel a 4. Doctor már találkozott a The Brain of Morbius című epizódban. Ez a vallási rend ismeri az Élet Elixírjét is, és képesek olyan főzetet előállítani,  aminek segítségével a Doctor megválaszthatja a következő inkarnációját. Úgy dönt, ameddig ez a háború tart, nincs értelme a nevének, és azt kéri lehessen harcos, hogy végre részt vehessen a Dalekok elleni háborúban. A miniepizódban a regeneráció közben néhány tizedmásodpercre mintha felismerhető lenne a 4. Doctor is, és a végén még annyit láthatunk, hogy egy fiatal War Doctor indul csatába, vagyis mikor újra találkozunk vele John Hurt alakításában, már egy nagyon hosszú ideje háborúban élő inkarnációt láthatunk, akinek jó oka van rá, hogy befejezze ezt a csatát bármi áron.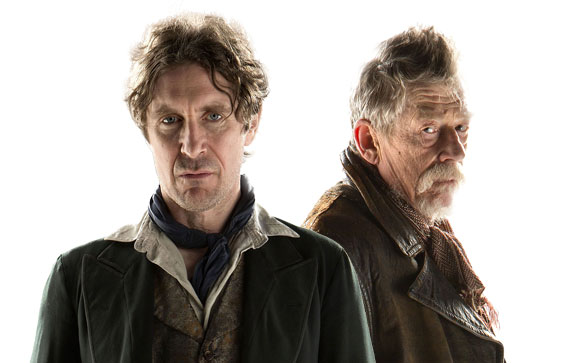 A Last Day című miniepizódban egy gallifrey-i harcos fejkameráján keresztül nézhetjük végig az utolsó város Arcadia elestét, ahol a Doctor is fronton volt.
A harcok során az időutazást az Időlordok és a Dalekok is használták, hogy megfordítsák egy-egy ütközet végkifejletét, ami azzal járt, hogy számtalanszor, számtalan formában haltak meg seregek és a háború civil áldozatai. Ennek az állandó visszautazásnak az Időzár vetett véget, ami azt jelentette, hogy a térnek azon részén ahol a háború zajlott, többet senki nem utazhatott vissza az időben. Ez a Dalekokat arra ösztönözte, hogy egyre nagyobb hatóerejű tömegpusztító fegyvereket és seregeket gyártson, az Időurak pedig az őseik által épített tiltott fegyvereikhez nyúltak, és még a Mestert is feltámasztották, mert tökéletes harcosnak gondolták (de ő persze simán meglépett). Arcadiát 400 égi erődítménnyel védték, bevehetetlennek hitték, de tévedtek. Az Időurak elnöke Rassilon, világvége forgatókönyvet készített, ami az Időurak kivételével mindenki mást elpusztított volna a téridőben.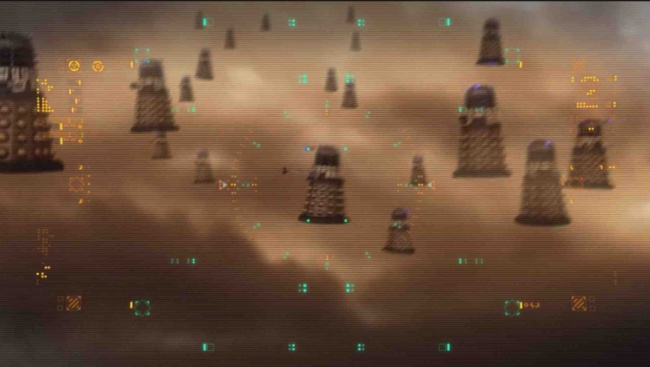 A War Doctor ezért lopta el Gallifrey legnagyobb fegyverét, a Pillanatot, ami olyan hatalmas, hogy öntudatra ébredt, és ami arra szolgál, hogy elpusztítsa az időzárban rekedt háború egészét, beleértve Dalekokat, Időurakat, harcosokat és civileket, köztük a gyerekeket, akiket egyszer meg kell majd számolnia a Doctornak, és végig kell gondolnia, hogy együtt tud-e élni ennek következményeivel.
Erről szól majd az 50. Doctor Who epizód, a Pillanat nagy piros gombjáról, a harcosról, a hősről, és a névről, amit nem viselhet akárki, egyedül csak a Doctor.
Oszd meg másokkal is!