Belegondoltatok már, mi történt a Doctor és River Song között korábbi kalandjaik során?
"Helló, Drágám…" – David Tennant közkedvelt 10. Doctora újabb kalandokra indul az Alex Kingston által megformált River Songgal, melyekből megismerhetjük a 2008-as Silence in the Library/ Forest of the Dead kétrészesben bemutatott kapcsolat hiányzó részleteit.
A kiadó a hangjátékokban utazó Big Finish, a felvétel pedig a karantén alatt készült. A "Doctor Who: The Tenth Doctor and River Song" című sorozat olyan történetekből áll, melyek az első találkozás után, de még a 2010-2013-as évadokban Matt Smith 11. Doctorával közösen megélt kalandok előtt estek meg.
"A 10. Doctor csak egyszer találkozott River Songgal a tévésorozatban, River életének a végén. – magyarázza a producer, David Richardson – De mi történt utána, vagy azelőtt, hogy a 11. Doctor színre lépett?"
Nos, itt az ideje, hogy megtudjuk! Három Big Finish-kaland jelenik meg Novemberben Tennant és Kingston főszereplésével. Az első az Expiry Dating (Lejárati idő) James Gosstól, ezt követi a Precious Annihilation (Drága megsemmisülés) Lizzie Hopley-tól, és végül a Ghosts (Szellemek) Jonathan Morristól.
A Doctornak és Rivernek halálos ékszerekkel, kísértetjárta bolygókkal és a téridő legváltozatosabb pontjaira szervezett "randikkal" kell megbirkóznia. Némi ízelítő abból, mire számíthatunk:
A Doctor tudja, hogy River Song a jövőjének része. Őrjítő, érdekfeszítő, de legfőképpen elkerülhetetlen része.
Életük egyre inkább összefonódik, de kapcsolatuk eme (a Doctor számára legalábbis) korai szakaszában különösen igyekezniük kell, hogy spoilermentesen alakuljanak a dolgok.
Bármit is tartogasson River múltja és a Doctor jövője, River gondoskodik majd róla, hogy a Doctor jól szórakozzon a rejtélyek bogozgatása közben.
Különleges vendégszereplőként találkozunk még Peter Davisonnal és Colin Bakerrel, mint az 5. és 6. Doctorral.
Az epizódokat otthonról vették fel Tennanttel, Kingstonnal és a többi szereplővel. A munkáról a Big Finish több fotót is közölt, többek között ezt: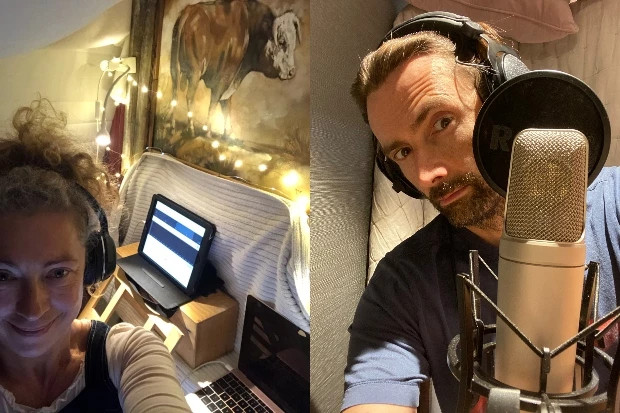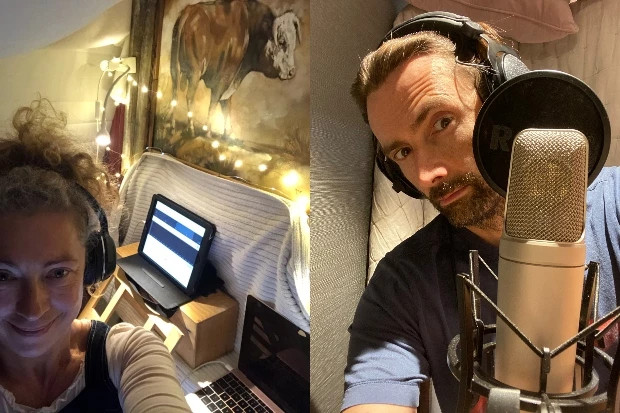 "Micsoda öröm volt elkészíteni ezeket a történeteket David Tennanttel és Alex Kingstonnal összeülve online a karantén alatt, és felfedezni az eddig elmondatlan históriák részleteit! – nyilatkozta Richardson – A két színész valósággal ragyogott – látszott, hogy mennyire élvezik!"
Mindhárom epizód előrendelhető a Big Finish honlapján, CD-n és letölthető formában egyaránt. Ha érdekel, miről szólnak, érdemes lehet a lentebbi rövid összefoglalókat megnézni – már ha nem zavarnak a "spoilerek".
Expiry Dating (James Goss)
Mikor a Doctor először találkozott River Songgal, látta meghalni. Most pedig River randevúra hívja. Helyesebben nem egészen randevúra, inkább küldetésre.
A Doctor viszont nem ugrik csak úgy csettintésre – legalábbis ő maga így gondolja.
Megteheti-e a Doctor, hogy nem adja meg Rivernek, amit akar, ha többmilliárd ember élete a tét, bármelyik inkarnációtól kéri is?
Precious Annihilation (Lizzie Hopley)
Mikor 1912-ben, Londonban halálos áldozatokat kezdenek szedni az ékszerek, River és a Doctor is feltűnik, hogy kiderítse, miért.
A rejtély a messzi múltba, több száz évvel korábbra, egy hajóra vezeti őket, melynek babonás legénysége lázadásra készül.
A  végzet sújtotta szerelmeseknek rá kell döbbenniük, hogy bár a drágakövek irigységet keltenek, mégiscsak a szerelem a leghalálosabb kincs.
Ghosts (Jonathan Morris)
River és a Doctor a galaxis leggyakraban kísértett bolygólyán találkoznak. A Doctor nincs meggyőződve róla, hogy ez az ideális randevú, míg egy rejtélyre nem bukkannak.
Valami nem stimmel a szellemekkel. Valami pusztítja őket…
Ahogy River és a Doktor nyomozni kezd, olyan igazság nyomaira bukkannak, amely halálosnak is bizonyulhat mindkettejük számára.
A fenti cikk fordítás. Az eredetijét ITT találod.
Oszd meg másokkal is!