A Doctor Who-nak az újraindítás óta számos spin-off sorozata született. Spin-off sorozatok alatt a Doctor Who univerzumában (whoniverzumban) játszódó sorozatokat kell érteni. Ebben a cikksorozatban megismerhetitek a sorozat mellékágait: Torchwood, Sarah Jane Adventures, Class. Ebben a cikkben a Torchwoodot szeretném elsőnek bemutatni.
Ismertető
A Torchwood (magyar nevén Űrlényvadászok) című sorozat 2006-től 2011-ig futott és 4 évadot ért meg. A Torchwood egy mindenki felett álló szervezet. A sorozat alatt a Cardiffban található Torchwood 3 bázis csapatának életét követhetjük nyomon. Aki nagyon figyelt a Doctor who The Unquiet Dead vagy Boom Town című részében, az tudhatja, hogy Cardiffban található egy, a városon áthúzódó téridő repedés, ami miatt gyakran kerülnek át ide földönkívüli tárgyak és lények. Ebből kifolyólag a Torchwood feladata e földönkívüliek elfogása, kiiktatása helyzettől függően. A Russel T. Davies alkotta sorozat inkább a felnőttek célcsoportja felé hajaz, ugyanis elég gyakran találkozhatunk erotikára épülő részekkel, földönkívüliekkel.
Utalások a Doctor-ra
Érdekesség, hogy a sorozat legtöbb részében megjelenik egy levágott kéz a bázis "díszítőelemeként". Emlékeztek még David Tennant első részére, a The Christmas Invasion-re? És arra is, hogy a sycorax vezető levágta a Doctor kezét és leesett az űrhajóról? Viszont éppen regeneráció utáni állapotban volt, ezért vissza tudta növeszteni. A végtagot Jack Harkness kapitány megtalálta és elég morbidan hangzik, de eltette emlékbe.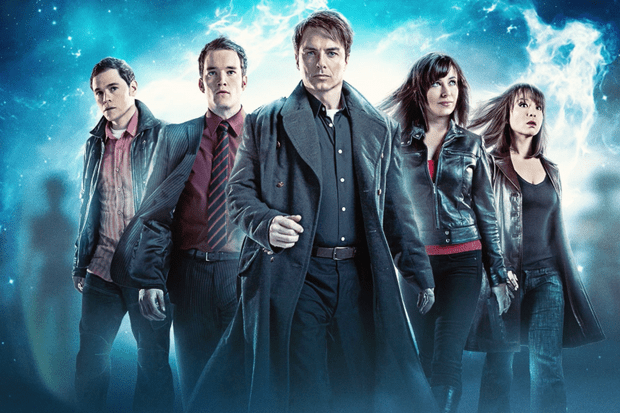 1. évad (2006-2007)
Az 1. és 2. évadban a csapatot alkotja: A Doctor Who-ból ismert Jack Harkness kapitány (John Barrowman), Gwen Cooper (Eve Myles), Dr. Owen Harper (Burn Gorman), Toshiko Sato (Naoko Mori) és Ianto Jones (Gareth David-Lloyd). Ebben az évadban a Cardiff körül feltűnő Űrlényekre vadásznak. Az évad 13 részes volt.
2. évad (2008)
A csapat ugyanaz marad az évad végéig. A fő feladatuk továbbra is a repedésen áttévedő űrlények elfogása, néhány esetben kiiktatása. Vendégszereplőként feltűnik az akkor már a UNIT-nál dolgozó Martha Jones is. Ez az évad szintén 13 részes volt.

3. évad (2009)
A 3. évad már Torchwood: Children of Earth néven futott és az előbbi évadoknál jóval kevesebb, mindössze 5 részből áll. A Torchwood csapata is fogy, ugyanis már csak 3 fő felelős a Föld védelméért (Jack Harkness kapitány, Qwen Cooper és Ianto Jones). Vendégszereplőként feltűnik Peter Capaldi, aki akkor még nem a Doctort játssza, hanem John Frobishert. Ebben az évadban egy történetszálra épülnek fel a cselekmények (ezért is változott a sorozat neve) és a történet fő helyszíne London. Az évadban gyerekek millióinak élete a tét.

4. évad (2011)
A 4. évad újfent más nevet kapott, a Torchwood: Miracle Day nevet kapja. Nagy változás meg végbe, ugyanis egy szedett-vedett új csapat alakul, amit a következő emberek alkotnak: Jack Harkness kapitány, Qwen Cooper, Rex Matheson (Mekhi Phifer) és Esther Drummond (Alexa Havins). A bonyodalmak ott kezdődnek, hogy a Föld minden egyes embere halhatatlanná válik egyik pillanatról a másikra, Jack Harkness kapitány viszont újra halandó lesz. Ezt az évadot már az amerikai Starz entertainment készítette. Az évad 10 részből állt.
Végszó
A sorozatban vannak utalások a Doctor Who-ra, ezért aki szeretné érteni ezeket, érdemes előtte megnéznie a Doctor Who-t. Erősen csak felnőtteknek ajánlott. Ha szeretted Jack Harkness kapitányt a Doctor Who-ban, akkor mindenképpen érdemes megnézned.
Oszd meg másokkal is!