Az új Doctor Who sorozatról részenként
2.10 Love & Monsters (A szörny és a szeretet)
Az idegenek látogatásai és a Doctor történetei a kívülállók szemével. Főszerepbe kerülnek a hétköznapi emberek, akik annyira átlag karakterek, hogy szinte bárki találhat magának egyet, akit be tud azonosítani a saját ismerősei közül.
Kezdve a történet mesélőjével aki az Elton nevet kapta, de ezen felül sok érdekeset nem mondhat el magáról. Dolgozik, néha bevásárol, és pont így elégedett az életével. Semmi komoly célkitűzés vagy nagyszabású terv. Az egyetlen ami érdekelni kezdi, hogy kicsoda a Doctor. Így ismeri meg Ursulát akivel hasonló az érdeklődésük és még csak nem is laknak messze egymástól. Ő mutatja be a csapat többi tagjának, akik mind a Doctort fejtegetik.  Mr. Skinner a legidősebb és legkomolyabb, Bridget amolyan kutató típus, Bliss a művészlélek. Közösséggé formálódnak. Együtt esznek, felolvasásokat tartanak, zenélnek, ameddig meg nem jelenik ez az embernek látszó lény, aki az irányítása alá vonja őket.
Abzorbaloff
A Raxacoricofallapatorius testvérbolygójáról származik, ezért is hasonlít valamennyire a Raxacoricofallapatorianokra. A képessége annyiból áll, hogy egyetlen érintéssel magába olvasztja áldozatait, azoknak minden emlékével és tudásával. Jól jön neki a megalakult kis csoport, egyrészt mert ő is a Doctort keresi, másfelől talált magának pár egyedülálló embert, akiket feltűnés nélkül fogyaszthat el.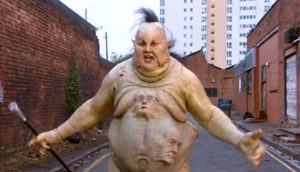 Most kicsit hosszabban beleláthatunk milyen Rose anyukájának élete az ő kislánya nélkül. Ahogy mondja, a lánya mindenfelé utazgat. Itt kell megállnia a történet mesélésével, mivel azt mégsem mondhatja, hogy egyébként a téridőben teszi mindezt egy földönkívüli oldalán, aki valamiért csak úgy vonzza magához az életveszélyes helyzeteket. Legutóbb Mickey-t is annyira magukkal vitték, hogy azóta sem tért vissza egy párhuzamos világból. Így maradt Jackie Tyler teljesen egyedül, egy teljesen normális világban. Ezért van az, hogy ő inkább azok közé tartozik akik nem annyira rajonganak a Doctorért.
Átlagos és normális
Arról beszél ennek a résznek a végén Elton, hogy ez a világ mennyivel sokkal több, mint amennyit első ránézésre gondolnánk róla, és hogy az élet sem annyi, mint megfelelni az elvárásoknak. Neki például van egy barátnője, akinek csak az arca maradt meg egy kőtömbbe olvadva, de nagyon boldogan élnek együtt. Mások szerint ez talán furcsa lehet, de Eltont ez egyáltalán nem zavarja.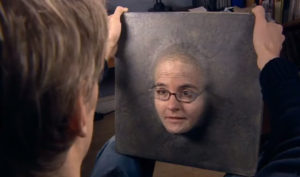 Oszd meg másokkal is!