Az új Doctor Who sorozatról részenként
2.7 The Idiot's Lantern (A bolond lámpása)
Természetesen a televízió nem rohasztja szét az agyat hogy aztán majd a fülünkön folyjon ki, ilyesmiket csak akkor gondolhattak, mikor még újdonságnak számított az ehhez hasonló fejlett technológia az emberek otthonában. Valójában a televízióban leadott műsor lesz az ami majd kiszívja a személyiséget, megfosztja az embereket az önálló gondolatoktól, a cselekvés képességétől, és ami az arcok helyén kifejezéstelen, semmitmondó ürességet hagy maga után.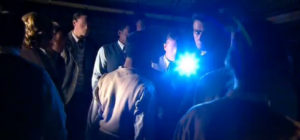 Kényelmesen ülnek?
A képernyőn megjelenő kedves hölgy egy létező karakterből lett megformálva, aki egy gyermekműsor házigazdája volt 1930-ban és így indította a műsorokat: "Kényelmesen ülnek? Akkor kezdődhet!" Azokban a régi időkben mikor még csak alig pár családban volt televízió, a nagyobb eseményeket együtt nézték a rokonok, szomszédok, barátok. Rose-nak feltűnt, hogy az utcában ahova érkeztek szinte minden lakásban volt már egy-egy készülék, ami még 1953-ban sem volt jellemző. Mint kiderült ennek oka az, hogy a környéken valaki nagyon éhes.
The Wire – A Vezeték
Az idegen akit a saját népe kivégzett, de mentette magából ami még megmaradt, és most hogy megerősödjön agyi elektromos aktivitással táplálkozik. Ragadozó, aki nem csak éhes de mohó is ezért nem éri be egy-egy emberrel, tömegekből akarja kiszívni az energiát, hogy visszaszerezhesse anyagi formáját. Ha akar színes képet ad magáról a fekete-fehér helyett, és céljai elérése érdekében mobil eszközről sugározza magát tovább. A terve az, hogy minél nagyobb nézőszámmal rendelkezzen adott időben és végre jóllakhasson.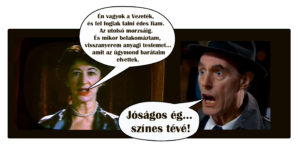 Oszd meg másokkal is!