Az új Doctor Who sorozatról részenként
11.2 The Ghost Monument (A Szellememlékmű)
Ott hagytuk abba hogy a Doctor… állj. Ez mi volt? Ez a főcím? Ez a fraktál szerű valami tényleg a főcím? Értem én hogy gazdasági nehézségek vannak, sorra mennek tönkre nagy múltú brit cégek (itt élek Angliában, így tudom). Meg aztán amúgy is mindenben újítottak és elismerem, hogy nagyban jobban néz ki mint telefonon de azért mégis csak na. 2018-ban olyan szinten áll a grafika (pláne hogy még idő is volt bőven) hogy ezt mind lehetett produkálni? Nem akarom oltani a sorozat grafikusait, de kérem szépen gondolkodjunk már el azon hogy nem a tizedik Doctor képi világát akarjuk visszahozni. Ezt szerintem bármelyik jobb képességű Whovian képes összehozni ahogy a YouTube videókból látom. Ok, kidurcáztam magam. Nézzük a második epizódot.
Szóval ott tartottunk hogy a Doctor a TARDIS nyomát követve sikeresen teleportálta magát és társait a végtelen űrbe de szerencsére valaki/k/ megmenti/k/ őket és ezáltal belekerülnek egy űrDakarba ami inkább egy Mad Max adaptációra hajaz. Mint kiderül ez a világűr legszéle legalábbis a két megmaradt versenyzőnek. A stenzák tudósokat hoztak ide, fogva tartva és arra kényszerítve őket, hogy pusztító lényeket teremtsenek, így a célbolygón minden adott ahhoz, hogy a versenyzők rosszul érezzék magukat. Végtelennek tűnő homokdűnék, húsevő baktériumtól hemzsegő víz, őrBotok (SniperBot), vagy az éjjel támadó, beszélő lepelszerű lények, amik simán látják az ember lelkét. Ezek a Maradványok (Remnanst), amik a Firka-lényekhez hasonlóan élettelenből lesznek élővé, és olvasva áldozataik gondolataiban, felhasználják azok félelmeit. Az mondjuk külön finomság, hogy a legjobban pont a Doctor van betojva. De az élet mindig újabb és újabb nehézségeket dob eléd, amit vagy leküzdesz vagy az küzd le téged. Szabadon választható bármelyik opció és mintha az epizód szinte minden szereplője (jó, a robotok nem) valamilyen oknál fogva inkább az utóbbi felé hajlana.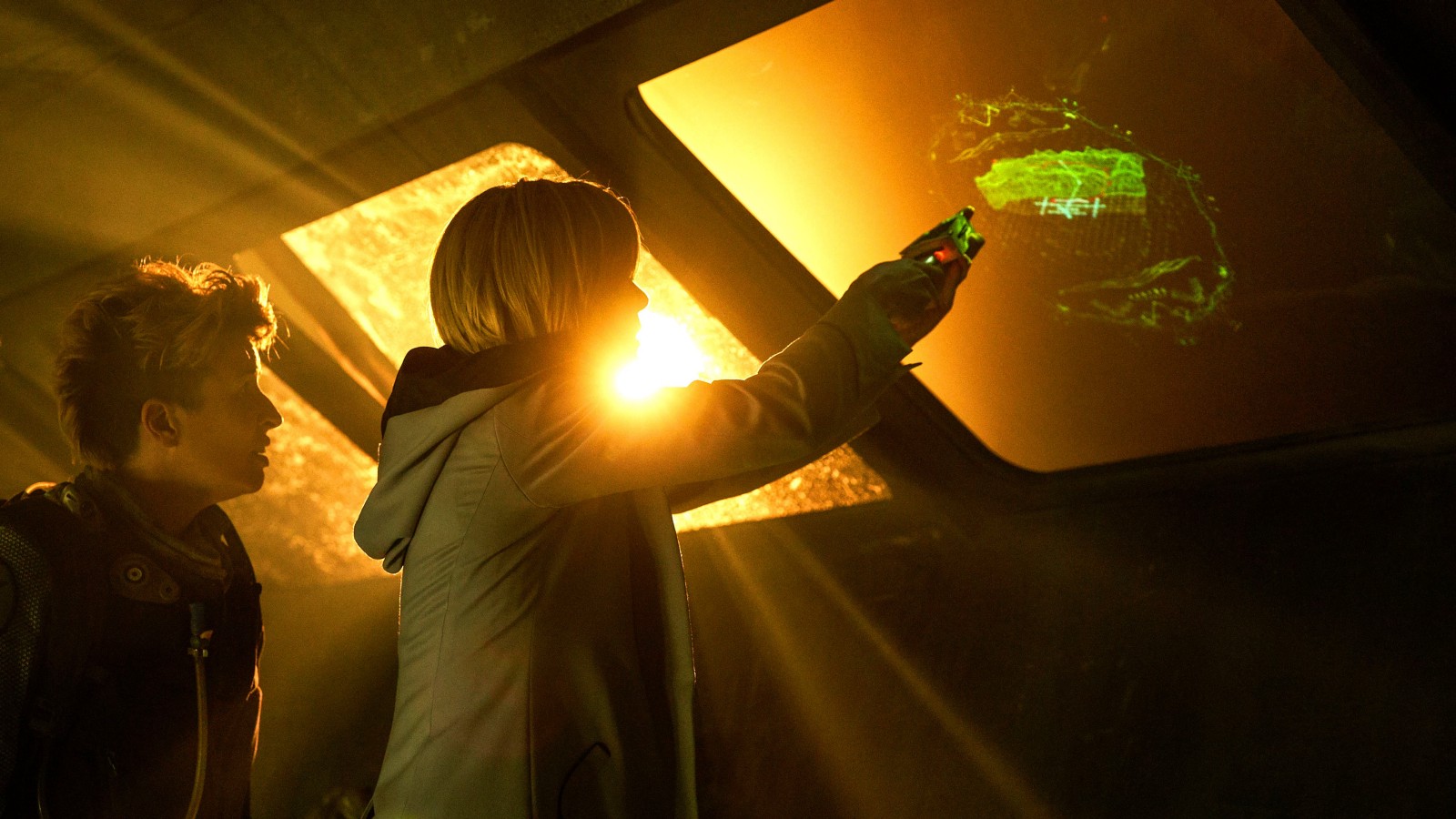 Kicsit olyan depresszív lett a hangulata ennek az epizódnak, bár egy Pusztulat becenevű bolygón valahogy senkinek nincs kedve mondjuk a Beatles Twist and Shout című dalát énekelgetni és táncolni rá. Az mondjuk lehet egyfajta motiváló tényező, hogy a nyertes szabadon és gazdagon távozhat a bolygóról míg a második helyezett ott ragad élete végéig (ami elég hamar be tud következni). No de mi a legnehezebb feladat, amit a versenyzők elé állított egy korábbi bajnok akit hologramként vetítenek a bolygóra? Megtalálni a Szellememlékművet, ami csak nagyon ritkán jelenik meg. Na és hogy néz ki ez az emlékmű? Mint egy rendőrségi telefonfülke.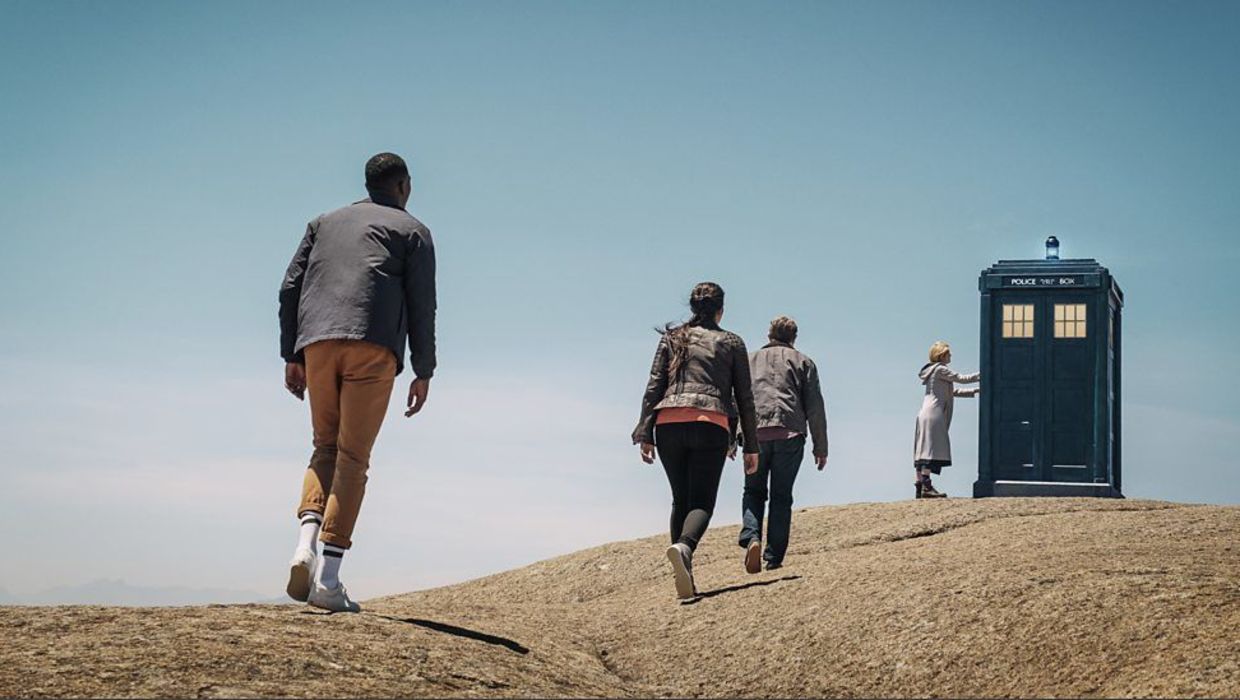 Nem akarok spoilerezni most sem, de nem tudom kihagyni hogy elmondjam a véleményem az új TARDIS-ról (még egy stenza harcos sem állíthat meg) és így sajnos ellövöm a poént is. Szóval a Doctornak egy új (legalábbis nekem az) arcát mutatta meg az epizód. A szégyenérzetet amiért látszólag nem tudta megtenni amit megígért, holott Ő nem szokott a levegőbe ígérgetni. Na jó szokott, de akkor is teljesíti. Viszont most először láttam, hogy van egy pont amikor a Doctor is feladja. Persze amikor meglátja a TARDIS-t és beszél hozzá, az pedig beengedi magába ez a szégyenérzet rögtön egy boldogságba csap át és ez olyan jó érzés. Kár hogy én nem tudtam boldog lenni az új enteriőr kapcsán. Nem vártam semmi extra csillogást, nem vártam hogy csillámpónikkal lesz kidekorálva a fal (hála Istennek nem is lett) csak mert nő a Doctor de azért ekkora minimál designt se gondoltam volna. Az egésznek egy barlang feelingje van és ez nekem nagyon nem tetszik, bár tény hogy a homokóra szimbolikus jelentése miatt azért el lett találva. Talán mire visszatérünk 1955-be esetleg átértékelem a dolgot.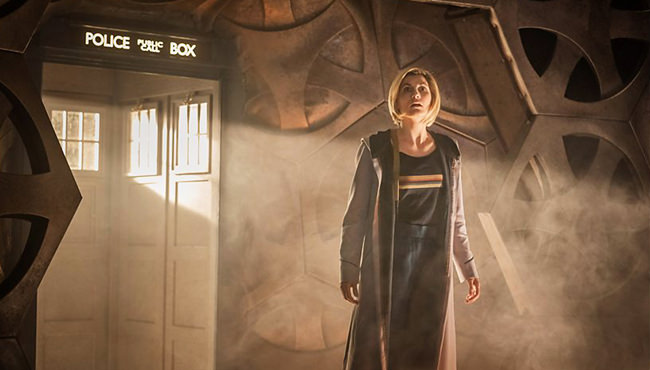 Írta: Wolf
Oszd meg másokkal is!